Cardi B and Nicki Minaj's feud took a turn for the ugly last night after a physical altercation at Harper's Bazaar's ICONS party at the Plaza Hotel during New York Fashion Week.
Reports and videos of the fight have since gone viral, with different accounts of what exactly went down. Here's everything we know so far.
According to a party insider, the fight broke out a little after 11 p.m. and "lasted about two minutes but it was wild." Cosmopolitan reports that party-goers were waiting on a performance from Christina Aguilera when Cardi posed for a photo with La La Anthony and Kelly Rowland. Nicki walked by and intentionally stepped on Cardi's gown, causing it to rip. Chaos ensued, with Cardi taking off her shoe and throwing it at Nicki (she missed, though) and Nicki reportedly pulling off Cardi's wig. You can see Cardi removing her heel and chucking it in this video obtained by Cosmopolitan.
There have been false reports that Cardi fought with someone from Minaj's entourage or Love & Hip Hop's Rah Ali. TMZ has a photo of the shoe Cardi threw, and contrary to the video above, are reporting that the fight took place at Nicki's table when Cardi "aggressively approached" her.
Nicki apparently remained cool throughout the incident, while Cardi was escorted out of the party by security. She was photographed barefoot, with her dress torn and a visible injury on her head. According to People, no arrests have been made, but the New York Police Department says the "investigation is still ongoing."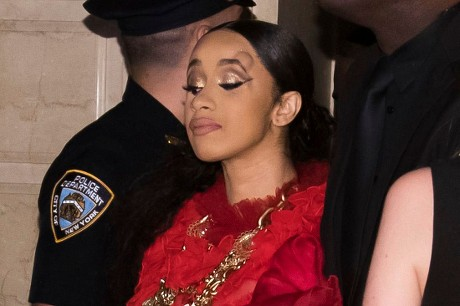 So Nicki was trash talking Cardi's daughter before Cardi attacked her…. YIKES NICKI pic.twitter.com/ZOK0KTe1RJ

— zee | Lolo $eason (@5HPrayerCircle) September 8, 2018
Cardi confirmed this after the party, where she released a statement on Instagram and had some pointed words for Minaj. "I've let a lot of sh*t slide! I let you sneak diss me, I let you lie on me, I let you attempt to stop by bags, f*ck up the way I eat!" Cardi wrote. "You've threaten other artists in the industry, told them if they work with me you'll stop f*ckin with them!! I let you talk bug sh*t about me!! I addressed you once in person, I addressed you a second time in person, and every time you copped the plea!!"
"But when you mention my child, you choose to like comments about me as a mother, make comments about my abilities to take care of my daughter is when all bets are f*ckin off!!" she continued. "I've worked too hard and come too far to let anybody f*ck with my success!!!!"
View this post on Instagram
At this point, Nicki has not responded to the incident. She has been on Instagram though, sharing three posts of herself from the party:
View this post on Instagram
View this post on Instagram
View this post on Instagram