Kravitz talks giant scarf meme, performs new song "Low"
Reese Witherspoon, Lenny Kravitz and Zoe Kravitz joined Jimmy Fallon for a rambunctious game of "Lip Sync Charades" on The Tonight Show Monday.
The four were split into two teams – Fallon and Witherspoon versus the Kravitz's – and for the game, one player was tasked with lip syncing and acting out a song while their teammate tried to guess the title while wearing noise-canceling headphones. Fallon went first, selecting Gloria Gaynor's "I Will Survive," though his disco strutting confused Witherspoon into guessing tracks like "Walk This Way" and "Walk on the Wild Side."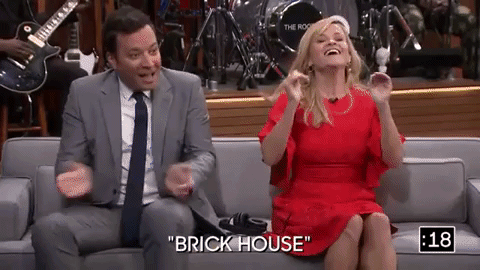 Team Kravitz scored a quick point with Lenny expertly miming the Commodore's "Brick House," while Witherspoon's dramatic balladeering was enough for Fallon to correctly guess she was lip syncing "Let It Go" from Frozen. Zoe Kravitz easily guided her side to a commanding lead after selecting her dad's own track, "Fly Away," but Fallon and Witherspoon won the 10,000-point showdown after the actress figured out he was performing No Doubt's "Don't Speak" within a couple seconds.
During the episode, Lenny Kravitz also sat down with Fallon for an interview about his new album, Raise Vibration, though he also discussed the infamous gigantic scarf that turned him into a meme. Kravitz defended his sartorial choice, noting he primarily lived in the Bahamas and wasn't used to the cold weather.
"Here's the the thing about the internet though, this is the problem," Kravitz added. "That's the size of the scarf, but the scarf keeps getting bigger and bigger." Fallon then held up a photo-shopped photo where the scarf was practically overwhelming Kravitz.
Kravitz also performed his Raise Vibration single "Low" on The Tonight Show. Kravitz released the record earlier in September and he's set to embark on a short North American tour in support of the record September 21st in Atlanta, Georgia.